2006.11.27 Monday
パンドラの鐘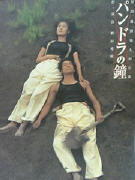 Directed by Noda Hideki 野田秀樹
日本語のあらすじはこちらから→
☆
*click jp below to read more*
Noda is one of my mum's favourite drama directors. I have never seen his works on stage, but my mum videotaped this "Pandora's Bell" (not box) which was showing on TV.
Noda's works are very modern, humorous, sometimes provocative and full of emotions. Most importantly, they are easy to understand.
He himself was an actor, so he sometimes act as well like in this drama. He also collaborate with Kabuki 歌舞伎 actors and make a drama together!
The story begins when Mizuo found a dead cat in king's coffin. It was an acient time in Japan. Somehow he was allowed to live by the order from the Princess Himejo. One day, Mizuo again found a strange thing from the grave... which was a bell.
The scene moves to modern time in Nagasaki 長崎 in Japan, during the WWII. Pincarton Foundation was trying to investigate the mystery of ancient time in Japan. The mystery of the bell...
Both in ancient time and modern time, people found out the use of the bell. It was a devil's weapon which would explode and release energy like the sun. At that moment, the ancient time and modern time crossed with each other.
The bell decides the destiny of the country, Himejo thought. She then decides to bury herself with the bell so that there will be still a hope for the future...
The last scene is touching, because towards the end, Mizuo and Himejo develop special feelings. Mizuo doesn't want her to make such a decision.
And what happened in Japan was that the atomic bombs were dropped in Hiroshima and Nagasaki. It was an interesting feeling because this drama and the reality sort of crossed over in my mind.
What if we had a wise and warm hearted leader like Himejo at that time and the bell (metophor for A-bomb) wasn't used? What if we didn't lose our hope? And look at what's going on in the world now...
Hope I get a chance to see more of Noda's plays!!!
Trackback

url: トラックバック機能は終了しました。