2008.08.24 Sunday
My birthday dinner at Ume no hana
So because I care about birthdays, my mother decided to take me out to dinner, and because I cannot eat anything solid due to my post-wisdom teeth jaw, we went to Ume no Hana 梅の花 CHINA, tofu restaurant originally from Fukuoka.
(check out more info at
daytauchung
)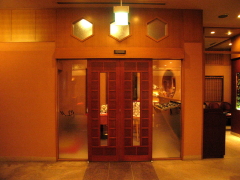 This restaurant offers wide variety of sophisticated tofu dishes at a relatively reasonable price with great service and spacious rooms.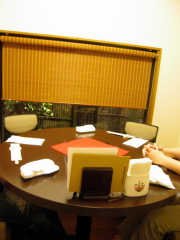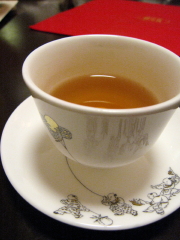 We got an individual room with horigotatsu style table (we're sitting on the floor but the centre part has a hole so that we can put our feet like we actually sit on a chair). The right is a cup designed by a Hong Kong designer
Alan Chan
. I found the same tea pot at my friend's place in Hong Kong, and
I want it
!!!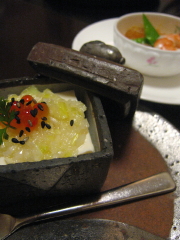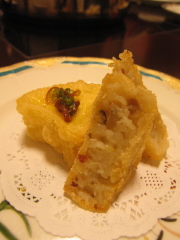 The appetizers. The topping on the tofu is probably spring onion. It tasted like the spring onion sauce 薑葱油 that comes with roasted/steamed chicken/duck/goose dishes in Hong Kong. The right is
turnip cake
蘿蔔糕 lo baak gou, one of Cantonese dim sum dishes.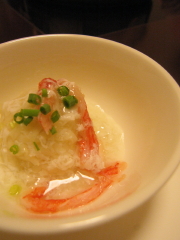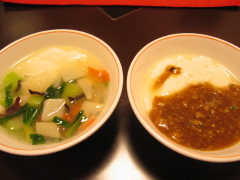 Shaomai & boiled tofu. The tofu had a silky texture.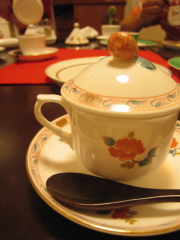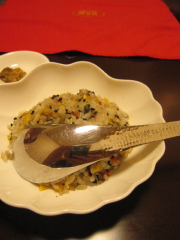 Chawanmushi on the left and my favourite fried rice with thick starcy sauce on the right.
I was really full by the time dessert arrived... it was the first time since my wisdom teeth were removed 2 weeks ago that I got full... I'm happy I got to eat a lot:)
05
--
1
2
3
4
5
6
7
8
9
10
11
12
13
14
15
16
17
18
19
20
21
22
23
24
25
26
27
28
29
30
31
--
>>
<<
--